Sep
23
2020
Getting Started in Digital Humanities
Digital Humanities Workshop
September 23, 2020
9:00 AM - 1:00 PM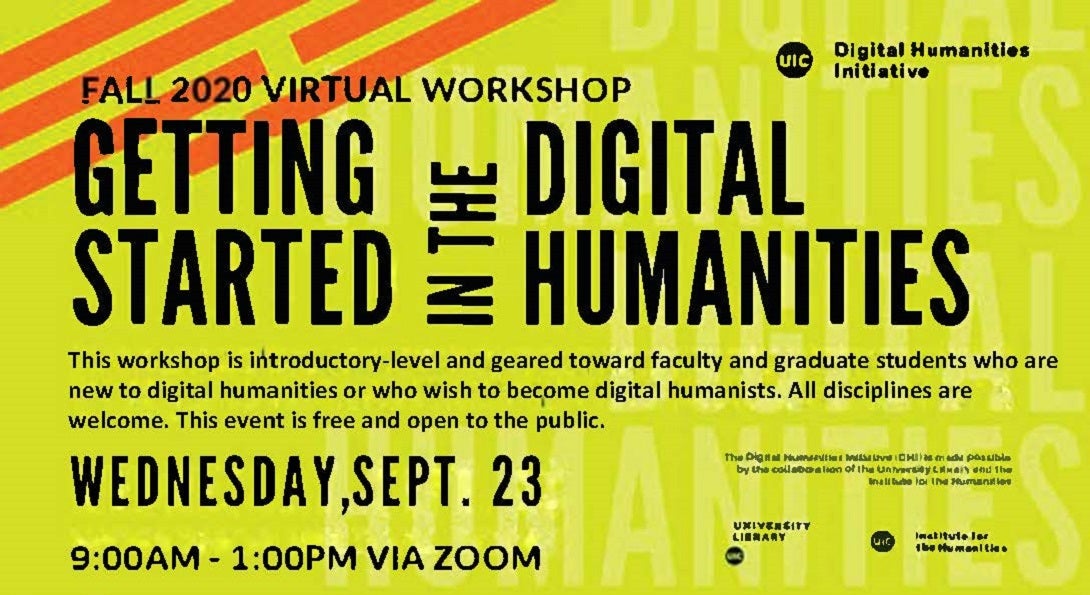 Address
Chicago, IL 60302
Download
The Fall 2020 Virtual Workshop (#uicdh2020) will be held September 23, 2020 on Zoom. Tutorials will be available to registered participants one week before the conference. Presenters will give a 5-10 minute summary of the main points of their tutorials during their session on the day of the workshop and participate in a 10-15 minute Q&A session.
*Scroll Down for Registration. Registration will close on Tuesday, September 22, at 5:00 PM CST. Those registered for the conference will receive the workshop Zoom link Tuesday evening.
Schedule
All times CST
______________
Opening Remarks
9:00-9:10AM
♦ Carla Barger and Janet Swatscheno, Co-Directors of the Digital Humanities Initiative at the University of Illinois at Chicago
SESSION 1: EMERGING GENRES AND METHODS
9:10-9:15AM
Welcome and Introductions
♦ Janet Swatscheno
9:15-9:25
"US-Latinx Archival Methodology"
♦ Gabriela Baeza Ventura, PhD, Associate Professor of Spanish, University of Houston; Executive Editor, Arte Público Press; Co-founder US Latino Digital Humanities Program (usLdh)
♦ Carolina Villarroel, PhD, CA, Brown Foundation Director of Research, Recovering the US Hispanic Literary Heritage Program, University of Houston; Co-founder US Latino Digital Humanities Program (usLdh)
♦ Linda García Merchant, PhD, Mellon-USLDH Postdoctoral Fellow, University of Houston
♦ Lorena Gauthereau, PhD, Digital Programs Manager, University of Houston
About: This tutorial focuses on the use of underrepresented archives to reconfigure how we understand the past and imagine a more inclusive future. The US Latino Digital Humanities program (USLDH) at the University of Houston draws from the rich archival collections at Recovering the US Hispanic Literary Heritage (Recovery) in order to make visible the legacy of Latinxs in the US. Recovery is an international program to locate, preserve and disseminate Hispanic culture of the United States in its written form since colonial times until 1980. The program has compiled a comprehensive bibliography of books, pamphlets, manuscripts and ephemera produced by Latinxs.
We will discuss the types of materials available in the Recovery collections, the attention to ethical choices when dealing with underrepresented archives, and the critical interventions that can take place at pedagogical and research levels. We claim that the use of archival materials in the undergraduate classroom has the potential to create a student-centric understanding of public history. For instance, prioritizing underrepresented archives can shift the perspective of history.  Furthermore, the panelists will describe the active ways that Recovery/USLDH engages with the community to preserve and raise awareness of history. This includes postcustodial archives, community events, and public history initiatives that serve to involve community members and community historians in the preservation and sharing of knowledge.
9:25-9:35
Q&A
9:35-9:45
"From Words to Networks: Text-based/ Semantic Network Analysis"
♦ Jana Diesner, Associate Professor, School of Information Sciences (iSchool), University of Illinois at Urbana-Champaign
♦ Chieh-Li "Julian" Chin, Research Manager, School of Information Sciences (iSchool), University of Illinois at Urbana-Champaign
♦ Janina Sarol, PhD student, Informatics, School of Information Sciences (iSchool), University of Illinois at Urbana-Champaign
♦ Lan Jiang, PhD student, Information Sciences, School of Information Sciences (iSchool), University of Illinois at Urbana-Champaign
About: Social networks and information networks are common objects of study in the digital humanities. Natural language text data can be a rich source of information about such networks. This tutorial introduces participants to fundamental theories, concepts and methods for going from words to networks. We focus on providing attendees with a practical overview on basic techniques for constructing network data based on text data in an informed, systematic, and efficient fashion.
Text mining and natural language processing techniques covered in this tutorial include: pre-processing, text summarization, entity detection, and relation extraction. We will use an open source tool, ConText, and open source data for the walk-through exercises in the tutorial.
9:45-9:55
Q&A
9:55-10:05
"Digital Storytelling on the Border"
♦ Mary Kate Coleman, PhD Student at the University of Illinois at Chicago,  investigator for the Humanizing Deportation project, and Fulbright US Student Researcher
About: This presentation focuses on digital storytelling as a collaborative mode of cross-cultural communication. I utilize my experience as a Fulbright US Student Researcher in Mexico, where I worked with the project Humanizing Deportation, to talk about digital storytelling as a tool to conduct creative research while fostering a larger dialogue about immigration issues. Humanizing Deportation is a community-based digital storytelling project in which investigators collaborate one-on-one with people who've been deported from the United States to Mexico, creating digital shorts that document the consequences of mass deportation from a human perspective. I'll discuss training, methods, and difficulties encountered in the field, as well as differing philosophies with regard to the purpose of digital storytelling, using my experience teaching for StoryCenter as a point of contrast.
10:05-10:15
Q&A
10:15-10:30
--Break--
SESSION 2: PROJECT PLANNING AND MANAGEMENT
10:30-10:35AM
Welcome and Introductions
♦ Carla Barger
10:35-10:45
"Strategies for a Successful First Research Project in the Digital Humanities"
♦ Simon Appleford, Assistant Professor in the Department of History and Associate Director of the Creighton Digital Humanities Initiative, Creighton University; Co-Author of DevDH.org
About: This presentation will guide you through the process of developing your first digital humanities research project. We will focus on crafting solid, valid research questions that are tied to digital technologies. We'll ask what are the components of a research idea? How do you formulate a research question? And how do you know your research idea is a good one? We'll also talk about how to identify an audience for your research and what types of research products frequently come out of the digital humanities.
10:45-10:55
Q&A
10:55-11:05
"Multilingual Content Management and the Corr-Proust Project"
♦ Claire Baytas, PhD candidate in Comparative Literature, University of Illinois at Urbana-Champaign
♦ Nicholas Strole, PhD in French, University of Illinois at Urbana-Champaign
♦ Dena Strong, MLIS, Senior Information Design Specialist in Technology Services, University of Illinois at Urbana-Champaign
About: This video tutorial demonstrates how researchers at the University of Illinois at Urbana-Champaign of the digital humanities project Corr-Proust analyzed challenges, assessed possible tools, and came up with various solutions to manage and track the data and tasks involved in their multilingual project. By using the Corr-Proust project as an example, we will illustrate how the content management system SharePoint allows team members to focus on their research rather than their workflow. Utilizing a consultative, low-code, and agile approach to development, the Corr-Proust team developed a multi-lingual, multi-continental system that is largely self-maintained, with occasional adjustments from consulting staff. The tutorial will illustrate how you too can use specific assessment items to help determine what will work well for your own projects.
11:05-11:15
Q&A
11:15-11:50
--Break--
SESSION 3: COMMONLY USED DIGITAL HUMANITIES TOOLS
11:50-11:55AM
Welcome and Introductions
♦ Janet Swatscheno
11:55AM-12:05PM
"Intro to Digital Cartography"
♦ Adrienne R. Hall, PhD Student in Geography at the University of North Carolina at Chapel Hill
About: This tutorial will help you get started with designing maps using free and open source geographic information system (GIS) software. This tutorial will provide a brief introduction to geographic information (including GIS data types, help finding spatial data, etc.) and practical skills in designing thematic maps using ArcGIS Online and QGIS. By the end of the workshop, you will be able to create your own web map and high-resolution map image.
This tutorial is for anyone who is new to and excited about GIS mapping and cartography. Prior experience with GIS is not necessary. To get the most out of this session, you will need a computer with QGIS installed (version 3.10 recommended) and an account with ArcGIS Online (recommended: use your institution's single sign on or create a free public account here)."
12:05-12:15
Q&A
12:15-12:25
"Bend, But Don't Break: How to get apps to play nicely together (and preserve your own sanity)"
♦ Kelly O'Neill, PhD, Director of the Imperiia Project at the Davis Center for Russian & Eurasian Studies, Harvard University
About: Are you attempting to create multimedia or interactive narratives? Are you trying to bring visual material to life in new ways? Have you ever asked yourself, "The app I'm using does 80% of what I want it to do; isn't there a way to push it the rest of the way?" This tutorial will present some of the project design hacks used to create an interactive visual history of the Russian Empire as told through a pack of playing cards. The focus will be on bending – but not breaking – Scalar, Omeka, and Tableau, but many of the methods used will apply to apps across the board.
12:25-12:35
Q&A
12:35-12:45
"Twinery.org: Building Literary Hypertexts"
♦ Megan Perram, PhD Candidate at the University of Alberta
About: Literary hypertext is a form of rhizomatic digital story writing that calls on the reader to participate in the narrative's unfolding by selecting various hyperlinks. Twine, one platform for literary hypertext, is a freely accessible, open source tool for nonlinear writing. Twine was developed by interactive fiction author Chris Klimas in 2009 to reduce barriers to entry for game creators of marginalized identities. This workshop will discuss the use of Twine in three major areas: literary game design; education-based mind-mapping, and therapeutic pathways for illness narratives.
12:45-12:55
Q&A
_________________________________________________
Date updated
Mar 31, 2021