DHI Virtual Workshop Features Multiethnic Digital Humanities Projects and Offers Intro to the Field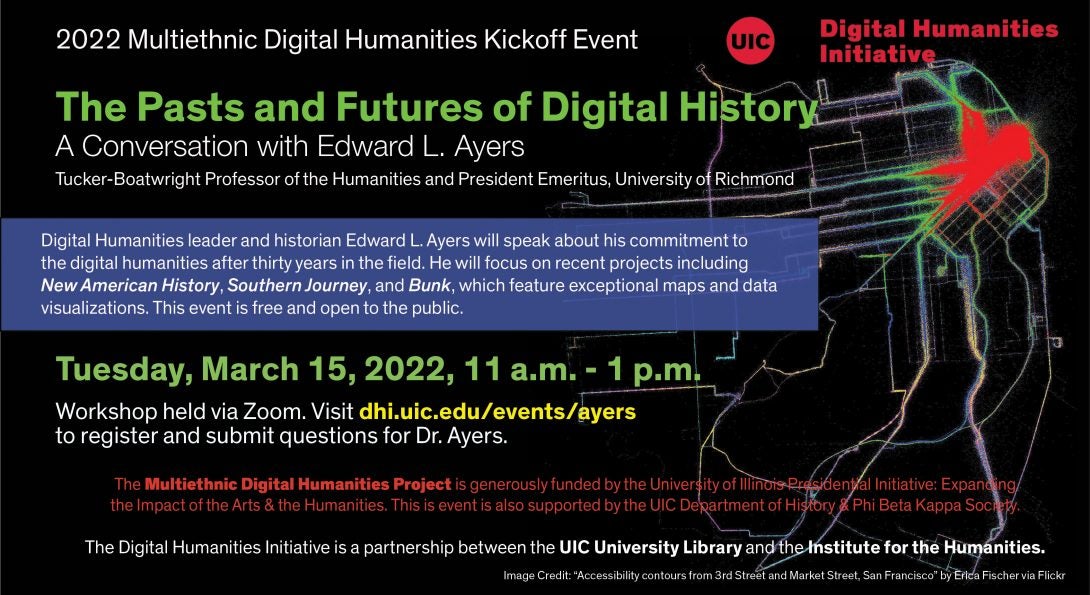 Edward L. Ayers' Virtual Talk on "The Pasts and Futures of Digital History"
We at the UIC DHI, along with the Institute for the Humanities, the University Library, the Department of History, and Phi Beta Kappa Honor Society, are excited to invite you to the 2022 Digital Humanities Initiative Kickoff event!
Digital Humanities leader and Civil War historian Edward L. Ayers will focus on the Multiethnic Digital Humanities, ​​or, the intersection of digital methods and platforms with race, ethnicity, and community across the globe.
On Zoom on Tuesday, March 15 from 11 a.m. - 1 p.m., Ayers will speak about his commitment to the digital humanities and how his projects have developed over thirty years in the field. He will focus on recent projects including New American History, Southern Journey, and Bunk, which feature exceptional maps and data visualizations. Ayers draws on a rich career in higher education, including as a humanities professor and university president at the University of Richmond.
Who should come? Because of the broad appeal of Ayers' work to those interested in the humanities, we welcome students, faculty, and teachers of all kinds. We especially invite people who are unfamiliar with the digital humanities to learn about the field's past and potential for research, teaching, and community scholarship.
Logistics: Ayers' talk and question and answer sessions will stream live on Zoom on Tuesday, March 15 from 11:00 a.m. - 1:00 p.m. 
Registration is required for virtual attendees. For more information and to register, visit the event page.
Submit your questions: Check out Ayers' most recent digital projects and submit questions for Ayers before the event. Ayers will answer some of these questions live on Zoom.
A flyer is included below. Please share widely at your university and beyond.
This event kicks off our year focusing on the Multiethnic Digital Humanities Project. This project explores the ways that digital tools and platforms engage with underrepresented identities, languages, communities, histories, and cultures. The latest phase of the Digital Humanities Initiative (DHI), it provides new opportunities for faculty and students to learn methods, share projects, and receive technical support.
Modified on February 22, 2022