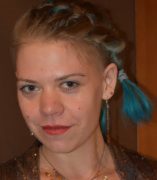 Zoey Martin-Lockhart, Co-Coordinator
PhD Student
Department of Anthropology
About
Zoey is interested in digital and non-institutional content and methods for biomedical education. In particular, she looks at the role these tools play in movements within biomedical practice and education to counter present-day manifestations in medical education and practice of the historical stigmatization and pathologization levied at particular groups, among them disabled, LGBTQIA+, Black, brown, and Indigenous people.
Zoey's dissertation explores the educational, advocacy, and community support work of disabled doctors and medical students, particularly through social and digital media technologies and spaces (e.g., Twitter, videochats, podcasts). Zoey hopes to present the fruits of her research in a digital, interactive form useful for the population(s) her research engages. Along these same lines, Zoey is interested in digital humanities projects that engage the fraught, multi-layered history and present of science and medicine, presenting histories of political pathologizations and the threads of current bodies of knowledge in such a way as to impact the present practice and administration of medicine.
Zoey can be reached at zmarti6@uic.edu or on Twitter @Zoey_beta.