A Successful Inaugural Workshop for the Digital Humanities Initiative!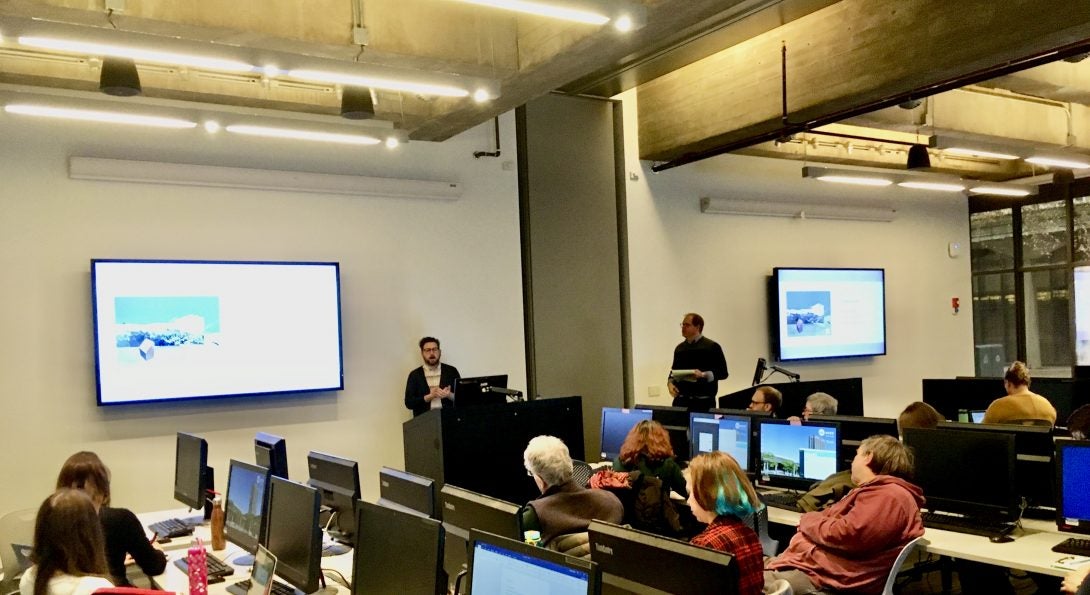 Northwestern's Digital Humanities Experts, Josh Honn and Matt Taylor, Discuss DH Literacy and Methods
The inaugural workshop for the Digital Humanities Initiative, which took place November 21, 2019, aimed to enhance digital humanities literacy at UIC by introducing faculty and graduate students to digital humanities methods and aiding in the facilitation of digital humanities in teaching and scholarly work.
Description
The workshop, held in the Daley Library's IDEA Commons classroom, provided over twenty UIC faculty and graduate students with a foundation in digital approaches and tools for research and teaching. After the workshop, lunch was provided in the Institute for the Humanities followed by a tour of the Daley Library's new Digital Scholarship Hub.
The workshop began with a comprehensive overview of digital humanities approaches, tools, and practices, after which breakout sessions were held on the following topics:
"Hands-on: Archives and Exhibits" — participants curated a very small digital collection using the Omeka archive platform and constructed a web-based exhibit using items from the collection.
"How did they build that?" — participants took a close look at the construction of "The Chicago Mural Movement" (a digital archive and exhibit project), discussing how the project came together from their data sources, through the use of platforms, project teams, and funding models.
"Hands-on: Mapping" — participants took a look at StoryMapsJS (https://storymap.knightlab.com) for mapping humanities data, creating visualizations, and the creation of simple story maps.
"Ethics & Access in Digital Humanities" — participants discussed some of the primary considerations when leading a DH-enhanced course, or when leading a DH research project, answering the following: What are the expected conventions for students, staff, and faculty collaborators working on projects? What ethical questions should be considered when collecting or presenting knowledge?
The Initiative is busy planning another workshop to be held in the spring of 2020. If you have any questions about Initiative events, please contact Hannah Huber.
Modified on February 28, 2020